Workers' Compensation Attorneys Lake Charles
Compassionate, Skilled & Knowledgeable Representation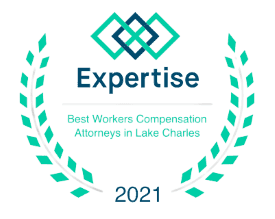 An injury sustained at work can significantly alter your life. Not only can such an injury affect your ability to work, but you may also suffer by losing your source of income or the ability to use a limb. There is a system in place to alleviate such disruptions, but even filing a workers' compensation claim may not end your troubles. This is because the system is very complicated and strict, and even a slight mistake may cause your claim to be delayed or denied entirely. Fortunately, you do not have to settle for the runaround—a Louisiana workers' compensation lawyer can help. At Sudduth & Associates, LLC, our law firm has a long history of helping the people of Lake Charles successfully settle workers' compensation claims and other legal matters. We are ready to help you next.
---
Contact us today to schedule your free consultation.
---
The Advantage of a Former Prosecutor on Your Side
His passion for helping people sets him apart from any other attorney in this area.

"Smart, driven, direct, passionate. Amazing man, which makes him an amazing attorney. Treated me and my family as if we were a part of his. I am forever grateful for the hard work and dedication he put into my case."

They truly care about the legal issues I face, and aren't just 'going through the motions.'

"James & his caring team of professionals are a cut above the rest. They truly care about the legal issues I face, and aren't just 'going through the motions.' It's been a tremendous help during this transitional period in my life to have Jame"

If you're looking for an attorney to fight for you, call James.

"Throughout the entire ordeal, James could not have been more professional, courteous and knowledgeable regarding my employment issue. He was prompt with his responses and could not have shown more compassion for the issue."

If having someone on your side that gives a 110% and delivers a quality product is important, then James Sudduth III comes with my highest personal recommendation.

"If having someone on your side that gives a 110% and delivers a quality product is important, then James Sudduth III comes with my highest personal recommendation."
Louisiana Worker's Compensation
Most Louisiana employees are covered from their first day on the job. People tend to associate workers' compensation benefits with covering injuries from a specific accident, but it is also possible to receive compensation for an injury or illness that developed over time. Whether you broke your leg after falling from faulty scaffolding or you developed carpal tunnel syndrome from repetitive office work, the statute of limitations is the same—you have one year from either the date of your accident or the discovery of your injury to submit your claims paperwork.
To receive the necessary paperwork, you must first send a written letter detailing the date, location, and circumstances of your work injury to your supervisor. This must be completed within 30 days of your accident. Once that has been taken care of, your employer should provide you with the paperwork you require to file your claim and receive benefits.
The types of benefits available in Louisiana include:
Temporary disability benefits
Supplemental earnings benefits
Permanent total disability benefits
Medical benefits
Mileage reimbursement (for trips to and from the doctor, for instance)
Vocational rehabilitation
Death benefits
Funeral expenses
Benefits are situational and depend on factors like the severity of your injury, your ability to work, and your income. Feel free to reach out to us if you have any questions.
Appealing a Denied Claim
If you file your workers' compensation paperwork only to later receive notice that your claim has been denied, you still have options. You can file a Disputed Claim for Compensation using Form LWC-WC 1008. This process could take six to nine months, however—even longer if the case is appealed. Working with a lawyer well-versed in Louisiana workers' compensation law can help you speed up the process and ensure that everything is done correctly and will yield winning results.
How We Can Help
You do not have to be discouraged by delays or denials with your workers' compensation claim. By hiring a lawyer, you can complete the claims process right the first time around and set yourself up to receive the maximum benefits you are entitled to.
At Sudduth & Associates, LLC, we like to say that we represent the underdog. We stand up exclusively for injured workers and their families. Insurance companies have teams of lawyers to represent their interests, but who is left to fight for the individual? We are proud to be that firm. So, if an insurance company denies your claim, call us today to see if you have a case. We would be proud to stand with you and fight to hold the powerful accountable and to secure the benefits to which you are entitled.
We are prepared to provide you with quality legal representation in a compassionate and caring environment, where privacy and confidentiality are paramount.
---
Contact Sudduth and Associates today at 1-833-SUDDUTH for a free, initial consultation.
---
Let Sudduth Help You Tell Us About Your Legal Matter